Meet the members of Clermont Animal CARE Humane Society working daily to support the lost and homeless pets of Clermont County and beyond.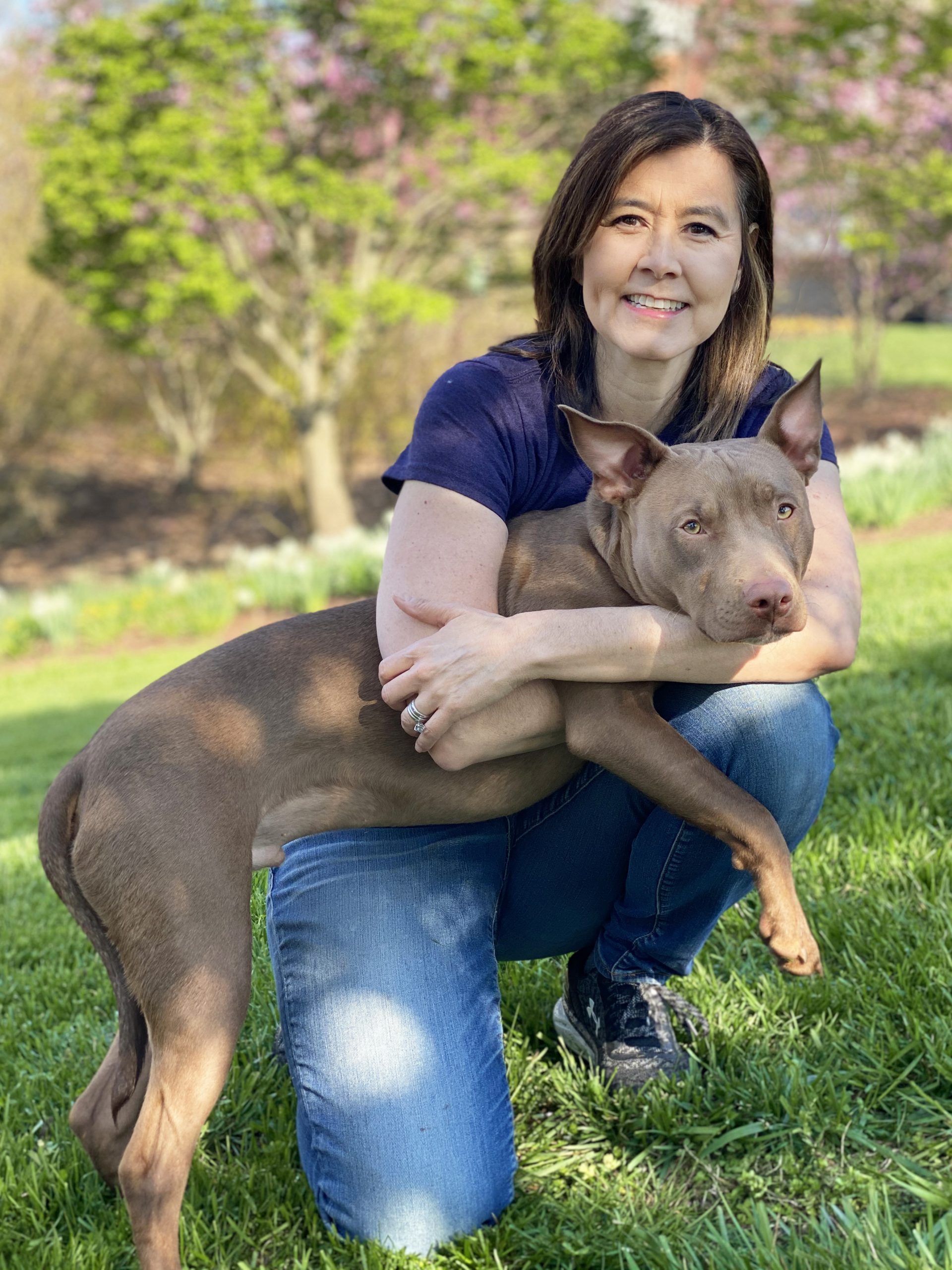 Carolyn Evans & Sanchez
Executive Director
Carolyn is a founding member of Clermont Animal CARE Humane Society (CACHS) and volunteers as the organization's Executive Director. It was Carolyn's vision to support the Best Friends Animal Society No Kill 2025 Initiative that led to the formation of CACHS in October 2017 and the decision to bid on the contract for the Clermont County animal shelter.
Carolyn's extensive collaborative work in the Cincinnati-area animal welfare community enabled her to pull together a strong coalition of like-minded individuals and organizations to work toward implementing proven lifesaving programs and the successful animal shelter bid. She is the founder and Board President of My Furry Valentine, host of Greater Cincinnati's largest animal adoption event celebrating more than 7,000 adoptions in 9 years; former Board President of United Coalition for Animals, Greater Cincinnati's first and only high-volume spay/neuter clinic for cats and dogs performing more than 132,500 surgeries to date; and former Board Secretary for HeARTsSpeak, an international non-profit organization that unites art and advocacy to increase the visibility of shelter animals.
Carolyn holds a B.S. in Management from Purdue University and an M.B.A. from The Ohio State University. She has a decade of experience as a management consultant. She's a proud graduate of the inaugural Best Friends' Animal Society Executive Leadership Program, the first lifesaving certification for animal services executive level leaders in the nation.
In addition to her charitable work, Carolyn's pet photography studio, phoDOGrapher, has been photographing pets & their people for nearly two decades. She lives in Mt. Adams with her husband, their two animal-loving boys, and 3 rescue dogs Abby, Capt. Jack, and Sanchez, a CACHS alum.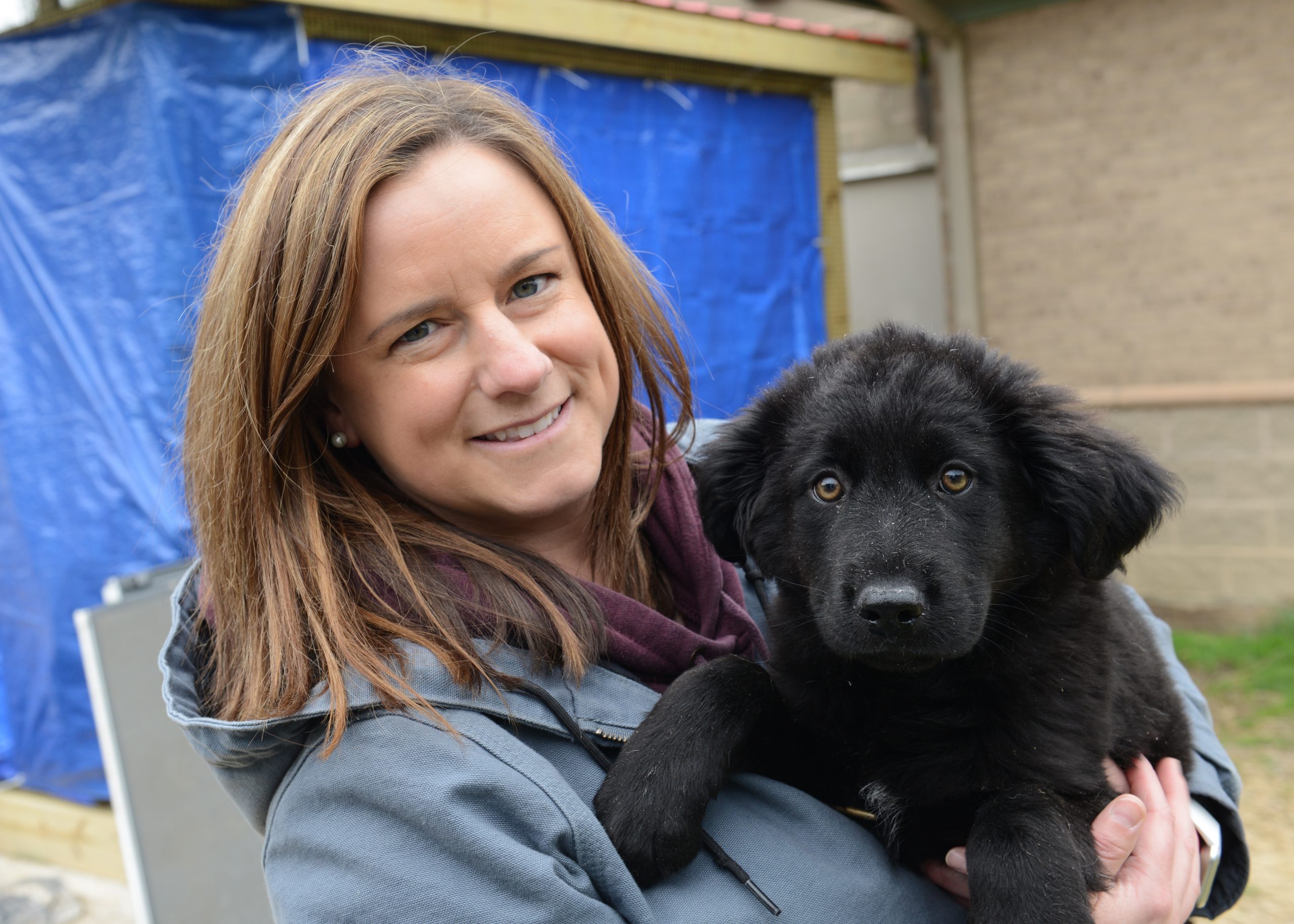 Meaghan Colville & Rizzo
Director of Lifesaving Programs
With 10 years experience in the animal services field, Meaghan began her career at spcaLA in Los Angeles. As a Humane Educator, she was part of a team that ran violence-prevention programs pairing youth from at-risk communities with adoptable shelter dogs in positive reinforcement dog training classes. The Humane Education department also included a court-ordered juvenile offender program, 8-week long summer camp, and a foster program for the pets of victims of domestic violence. Meaghan moved on to become Volunteer Manager at spcaLA, overseeing almost 300 volunteers and helped implement a new volunteer levels-based dog enrichment program.
In Cincinnati, Meaghan was the Surrender Prevention Specialist at SPCA Cincinnati. While there, she was a founding member of SAFE (Saving Animals from Eviction), and continued to work with the group when she became Shelter Director at Ohio Alleycat Resource (OAR). While at OAR, Meaghan's team strategically implemented best practices for lifesaving which resulted in the doubling of applications, adoption and rescue transfer numbers. She also led efforts to initiate a new, robust FeLV+ cat adoption program - the first of its kind in Cincinnati. Meaghan is excited to bring her experience and passion for animal sheltering to Clermont Animal CARE!
Meaghan holds both a B.S. and M.S. in Education, from The Ohio State University and Canisius College, respectively. She played varsity tennis at Ohio State and is a certified high-performance coach who has worked with nationally-ranked junior players from all over Ohio. Meaghan lives in Covington with 3 cats and 2 Golden Retrievers.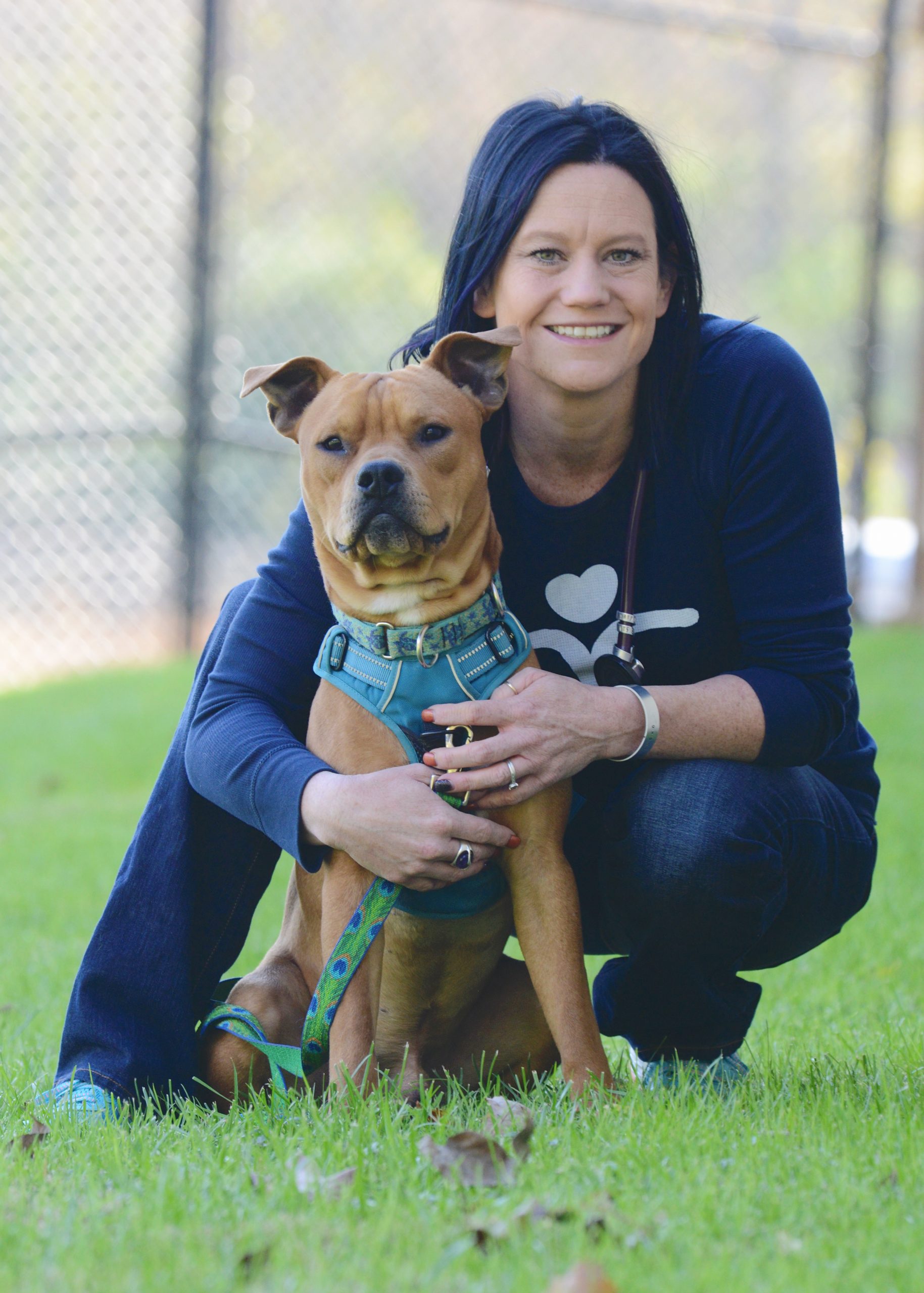 Amanda Taylor & Rocko
Medical Director
Amanda has been a Registered Veterinary Technician (RVT) for 16 years and a Veterinary Technician Specialist in Emergency and Critical Care for 7 years. She has worked in a wide variety of veterinary hospitals throughout her career, primarily in the areas of emergency and critical care. Amanda currently works at MedVet and has been in the Emergency and Nursing Department for the past 11 years.
In the world of sheltering, Amanda has fostered for Clermont Animal CARE for the past two years and joined the CACHS team as Medical Director in 2018. She is a graduate of the Maddie's Fund Clinic Management Apprenticeship and loves the challenges of shelter medicine. Amanda often fosters special needs animals and challenging medical cases, including Rocko of "Bucket List" fame. Amanda lives in Clermont County with her husband, daughter, 3 dogs and a variety of other animals who need a place to call home.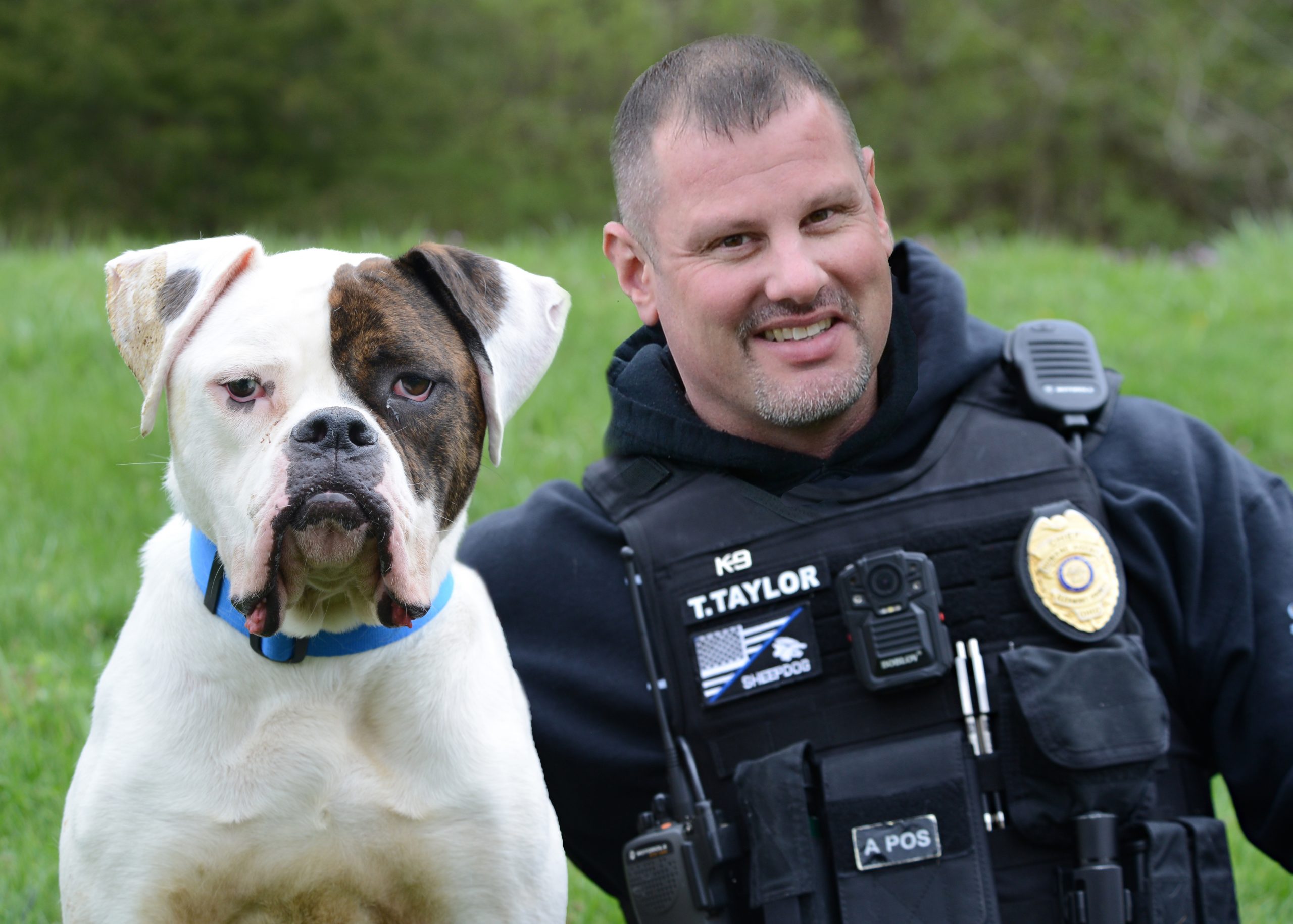 Troy Taylor & Hooch
Chief Dog Warden
Chief Taylor recently moved from Grand Island, Nebraska, for the opportunity to lead the Animal Care & Control Department for Clermont County. He has more than 6 years of law enforcement experience, including Corrections Officer, Armed ICE Transport Officer, K-9 Unit Supervisor overseeing a team of 7 Patrol Officers, and most recently, he led the operations the Central Nebraska Humane Society Animal Control Department enforcing city, county, state and federal laws.
Chief Taylor has earned numerous certificates in his career including the Field Training Officer distinction. He is a Firefighter/EMT, and holds an Associates Degree in Criminal Justice.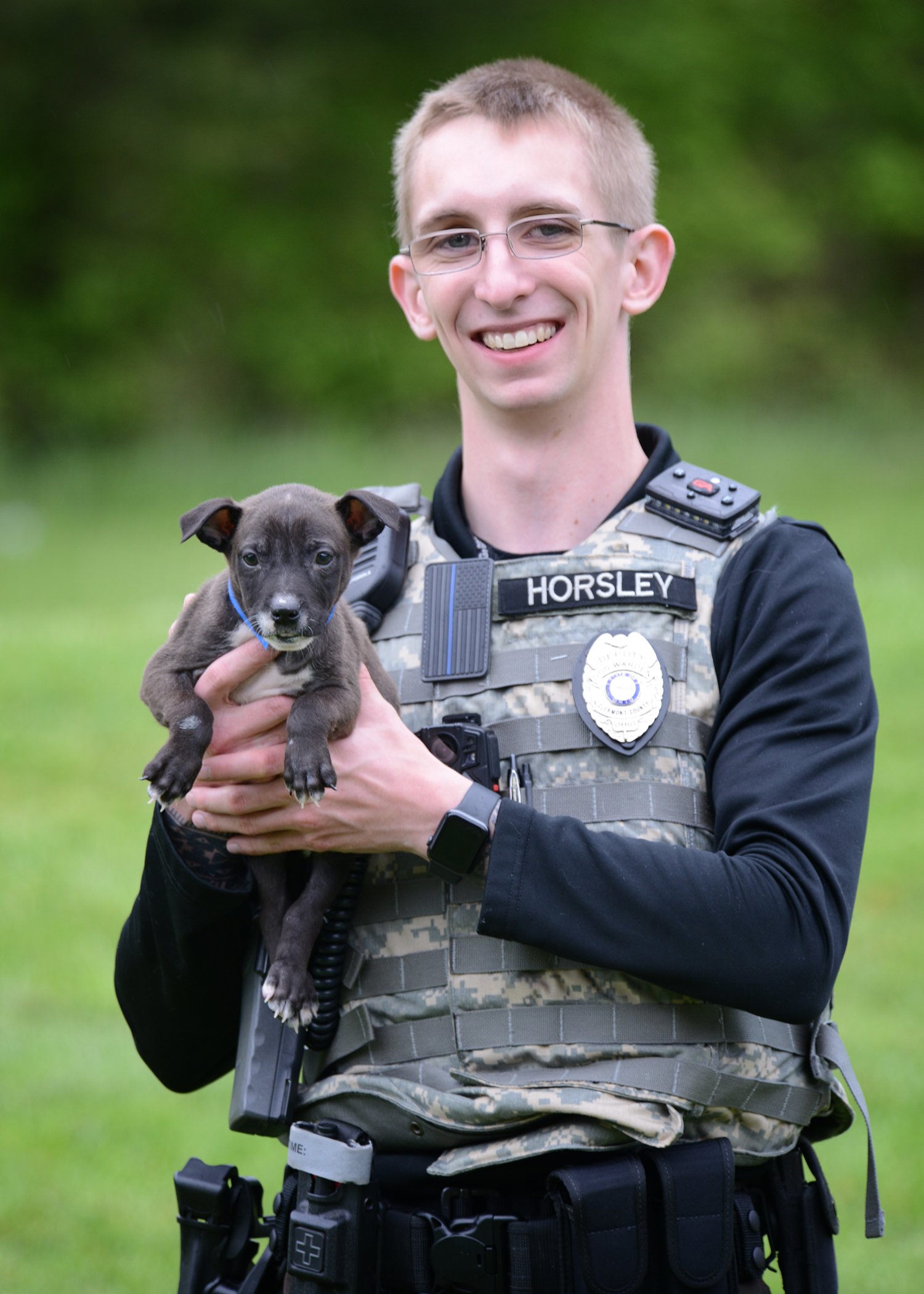 Aaron Horsley & Mango
Dog Warden
Aaron's love for animals and his desire to make a difference in the community led him to a career in the field of animal services four years ago. He has worked as an Animal Control Officer at both Lexington/Fayette Animal Care & Control and SPCA Cincinnati in Hamilton County. He is an EMT and studied Law Enforcement at Kentucky Law Enforcement Explorer Academy. Deputy Horsley comes to work every day eager to serve the people and animals of Clermont County.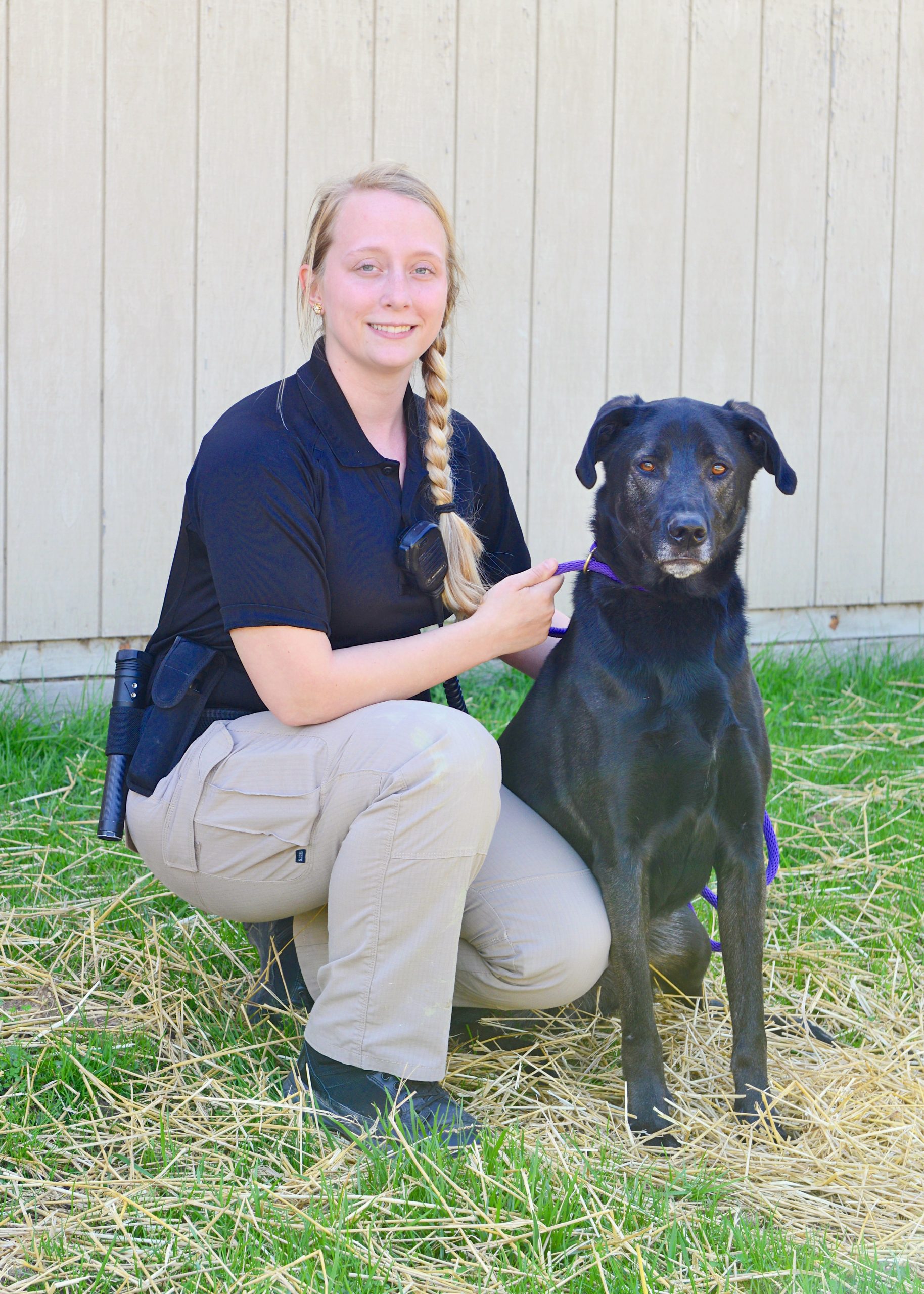 Ashley Risner & Dieter
Dog Warden
Ashley Risner graduated from Maysville Community and Technical College with an Associates Degree in Criminal Justice. She grew up in Mt. Sterling, Kentucky and was heavily involved in FFA as well as the raising and showing of livestock on the family farm throughout her high school year. Her internship at her local Sheriff's office and her passion for animals brought her to Clermont Animal Care Humane Society. She will continue her education in the fall by resuming online classes at Eastern Kentucky University to finish her Bachelors in Criminal Justice.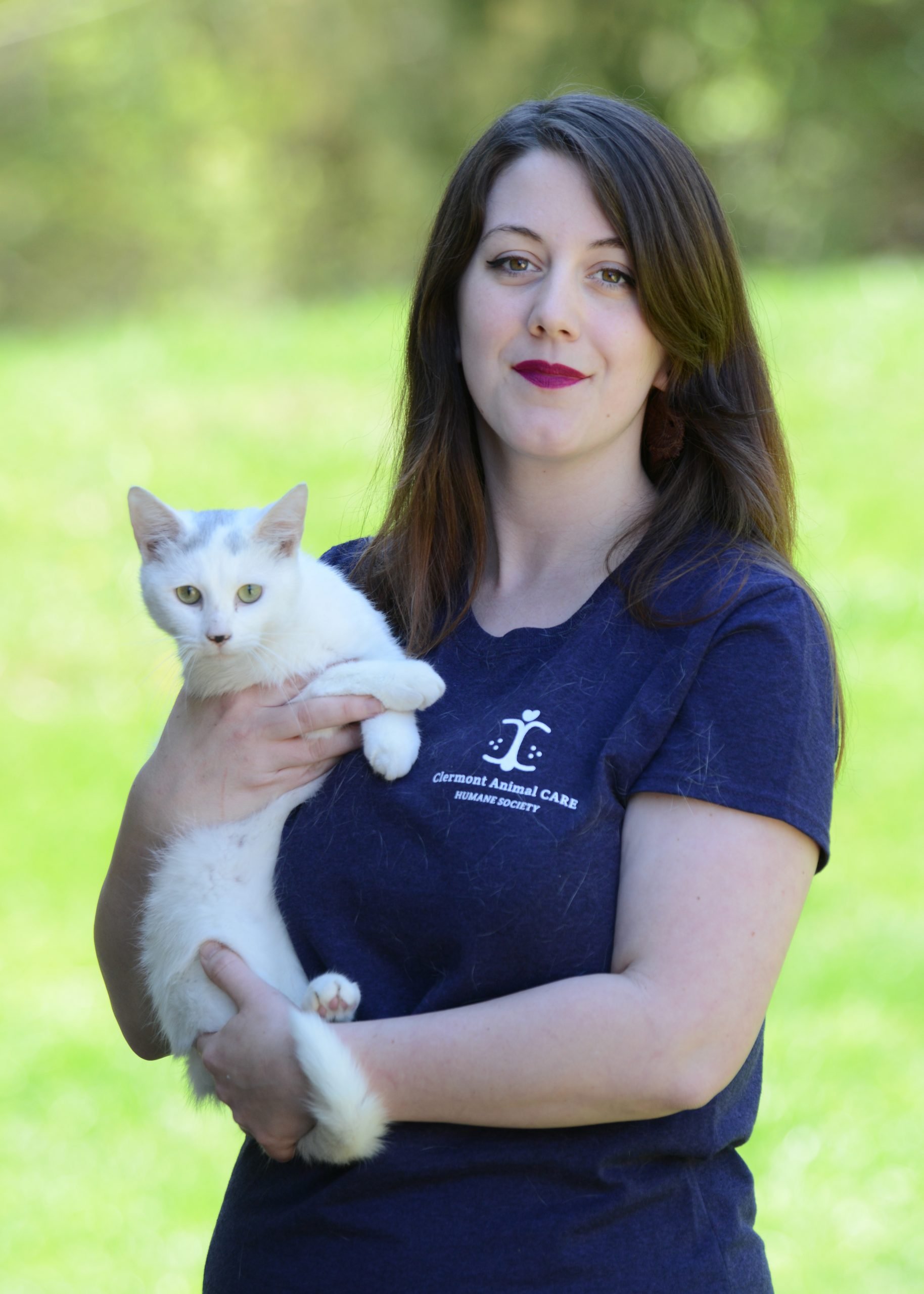 Blair Caviness & Pinky
Community Cat Program Manager & Interim Dog Program Manager
Blair's work in animal welfare began 10 years ago at the Humane Society of Memphis and Shelby County, in Memphis, TN. While living in Memphis, Blair also co-founded Bluff City Feral Friends - a small volunteer-led group dedicated to feral cat care and advocacy. Later, Blair moved to Nashville, TN where she coordinated a large-scale TNR program for feral cats. Most recently, Blair served as the Executive Director at Needy Paws Animal Shelter in Clarksville, AR. Blair is passionate about the welfare of all cats - with a special love for feral and community cats. She and her little family of cats are excited about their move to Ohio to bring her knowledge and experience to Clermont County!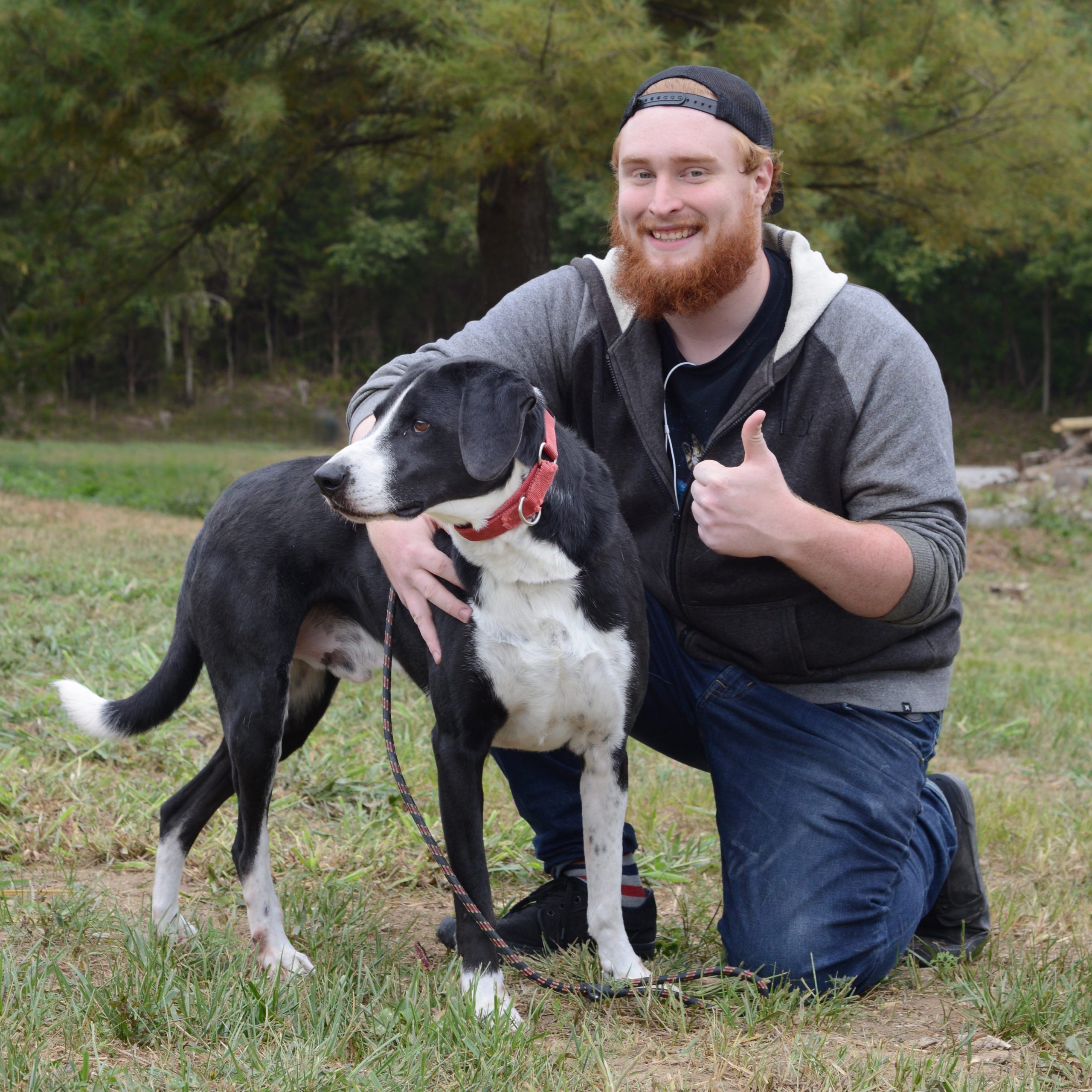 Bryson Ritchey & Sampson
Bryson came to Clermont Animal CARE in August of 2019 with little experience handling animals, but a passion for the community and doing what he can to help its dogs. To him, the most fulfilling part of the job is seeing animals that come in scared, unfriendly, or weak and working to help them grow into the best that they can be. In November of 2019, Bryson adopted his first dog from our shelter, who he named Mozzarella. She also came to our shelter afraid and unsure of humans, but since then they have learned a lot from each other and she's now an energetic and happy pup. Bryson hopes to utilize his experience gained with these more challenging animals to pursue a career in more advanced fields, such as veterinary or behavioral science.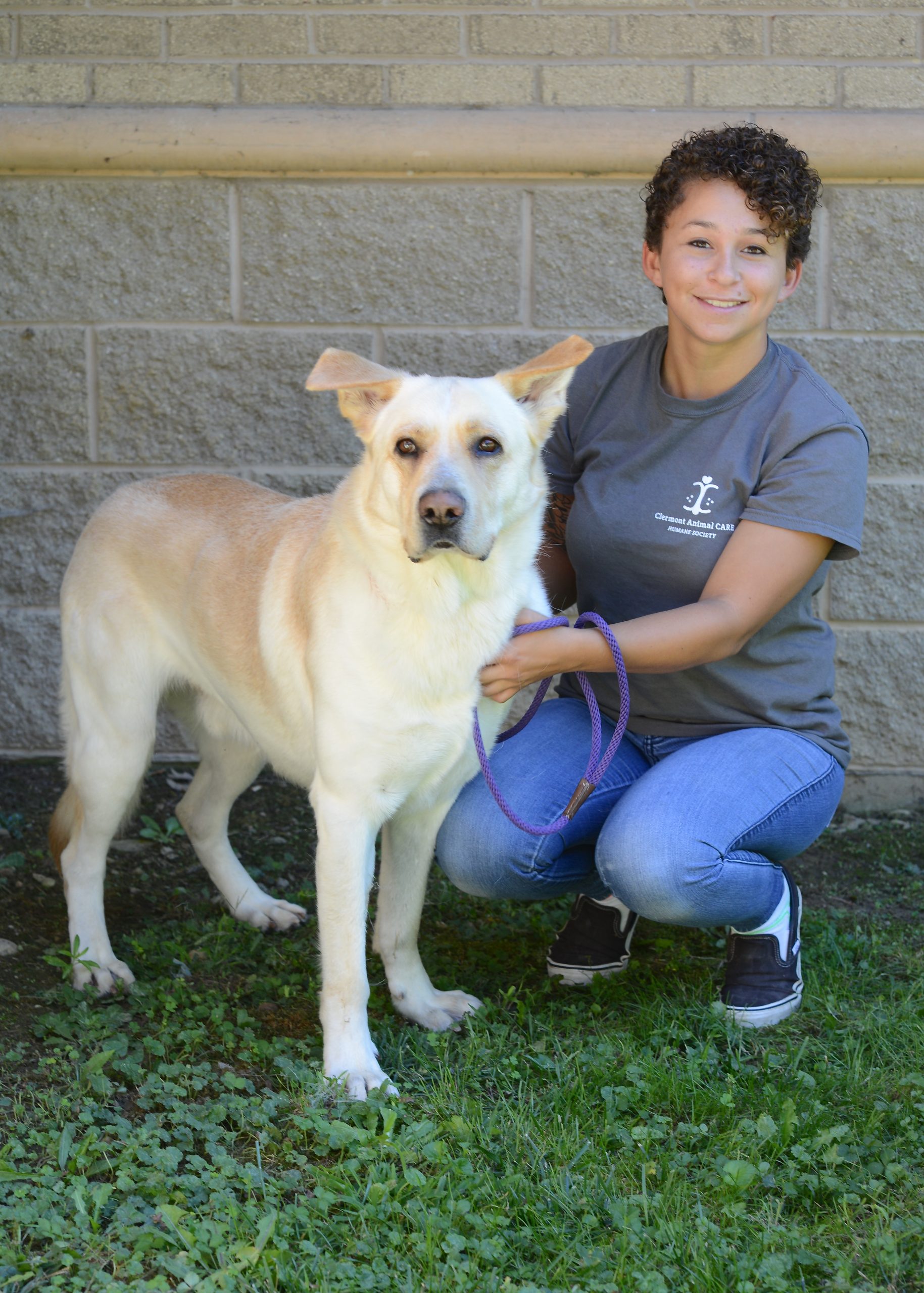 Carolyn Frias & McDreamy
Training and Enrichment Coordinator
Carolyn Frias recently moved from Southern California with her two dogs, Mason and Nelson, and joins our Team as our Training and Enrichment Coordinator after serving as our Dog Program Coordinator. Carolyn has 12 years of experience working with dogs in both shelters and home environments. She is a Certified Professional Dog Trainer (CPDT) and got her start while still in high school, when volunteering at spcaLA in Los Angeles.
During her time there, Carolyn became and integral part of the Behavior and Training Team that provided robust, daily enrichment for the shelter dogs and taught them behaviors that would help them succeed in new homes. In addition to working with shelter dogs, Carolyn also has experience working as a private in-home trainer and group class instructor.
Carolyn uses positive reinforcement training techniques. She believes that it is important to strengthen the human-animal bond by building trust, and using rewards as motivation rather than fear and pain. She also believes that shelter dogs are stressed enough and there is no need to add more stress by using dog training techniques and tools that punish behaviors. Carolyn attends lectures, training and conferences to stay current on new dog training and sheltering information.
We are excited about the possibilities for more shelter enrichment including mental stimulation, training, expansion of playgroups and more, to keep the dogs as happy as possible while in the shelter and prepare them to be successful in adoptive homes.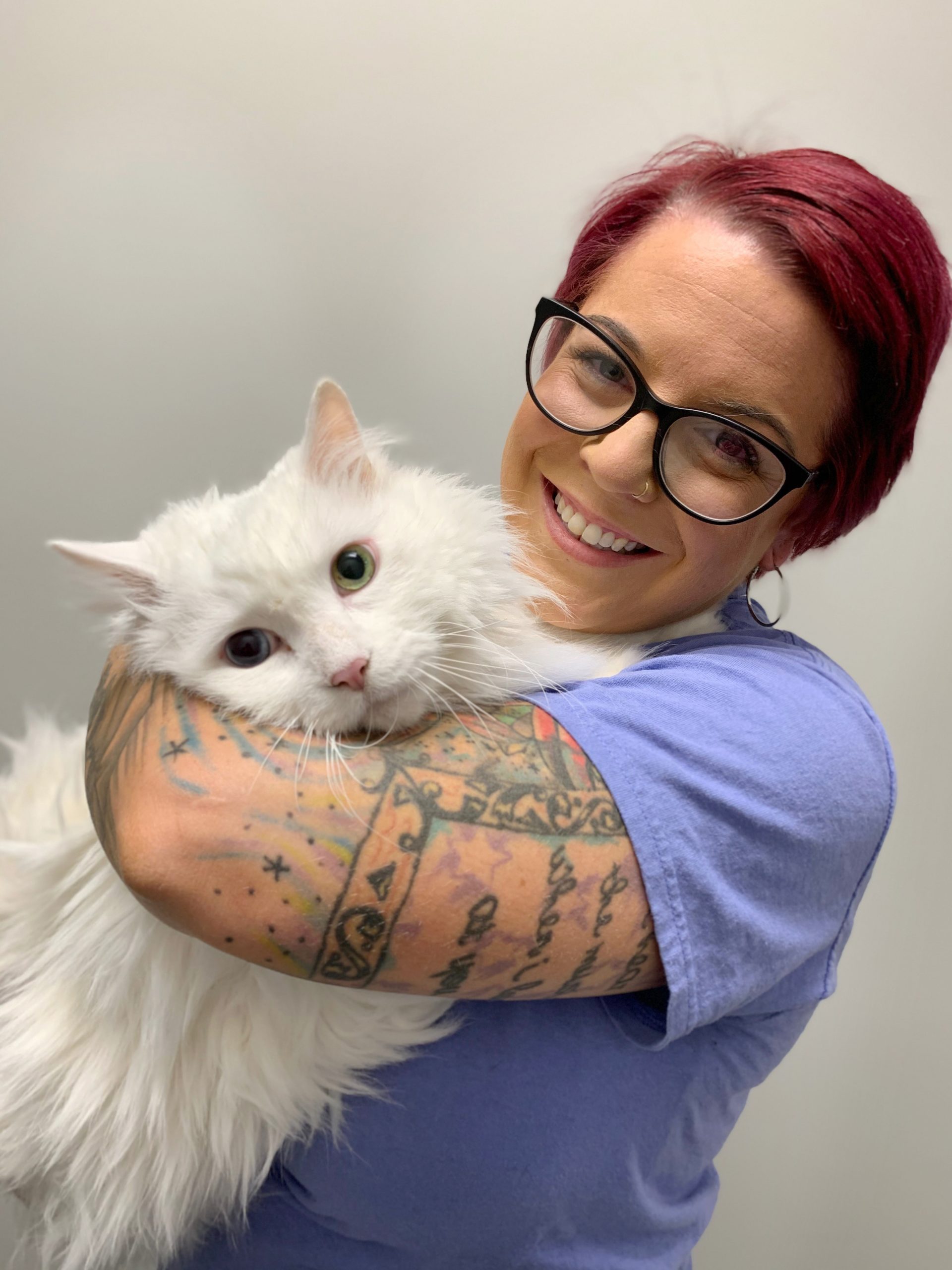 Cat Cameron & Yeti
Cat Program Manager
Cat transitioned into the animal welfare field in 2018 after spending 15 years in customer service, retail management and training. A lifelong animal rights advocate and pet parent, Cat felt it was time to pursue a career with more meaning. After working at a boarding facility and vet office, Cat found her calling as an Adoption Coordinator for Cincinnati's Ohio Alleycat Resource and Spay & Neuter Clinic. She successfully contributed to the updating of adoption policies and helped OAR nearly double adoptions in her first year!
Cat joined Clermont Animal CARE in 2019 as the Cat Program Manager. She has experience with cat behavior and socialization as well as policy writing, staff training, and logistics. She has attended training opportunities led by the Humane Society of the United States, Austin Pets Alive!, and Jackson Galaxy Cat Pawsitive on topics ranging from shelter medicine, to behavioral training of cats, to open adoption policies.
Cat is mom to 4 of her own cats- Bob Ross, Betty Page, Dolly Parton, and Humphrey Bogart.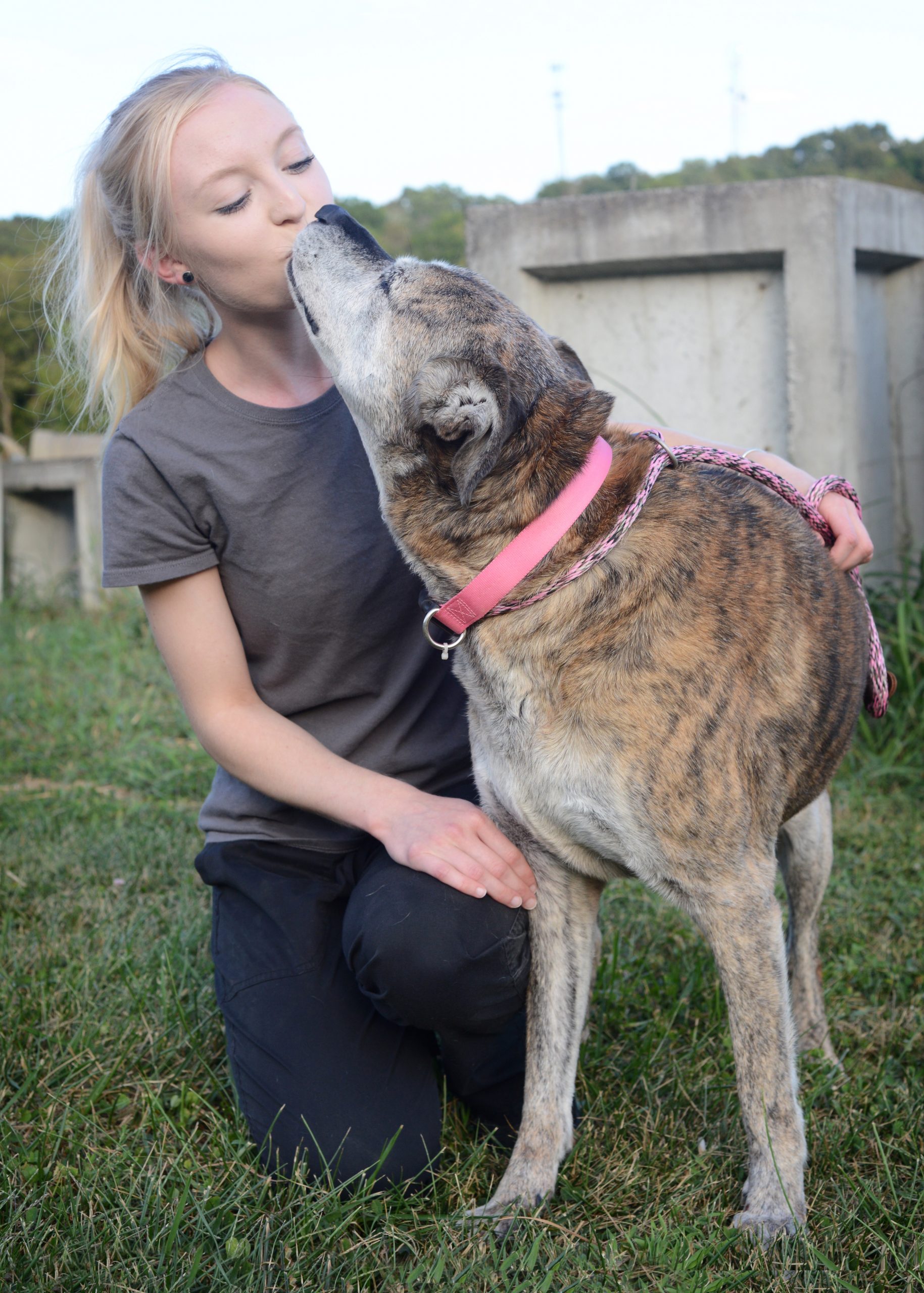 Chelsea Zugg & Grayson
Medical Coordinator
Chelsea was raised in Clermont County and loves being able to help animals in the community where she was raised. She has always had a passion for animal welfare and was able to put her passion into action, first as a volunteer at Clermont Animal CARE, then as a Kennel Technician. Chelsea's background in veterinary services made her transition into her current role of Medical Coordinator a natural one. As Medical Coordinator, Chelsea is responsible for the medical oversight of all in-shelter and foster animals, scheduling in-house and off-site veterinary care for up to 250 animals at a time. Chelsea feels the most rewarding part of her job is the role she plays in ensuring that all CACHS animals are spayed or neutered, which dramatically decreases the number of homeless pets in our county. Chelsea lives in Clermont County and has 4 cats, including Emie, adopted from CACHS after fostering, and two rescue dogs, one of which she met when taking her to a CACHS adoption event.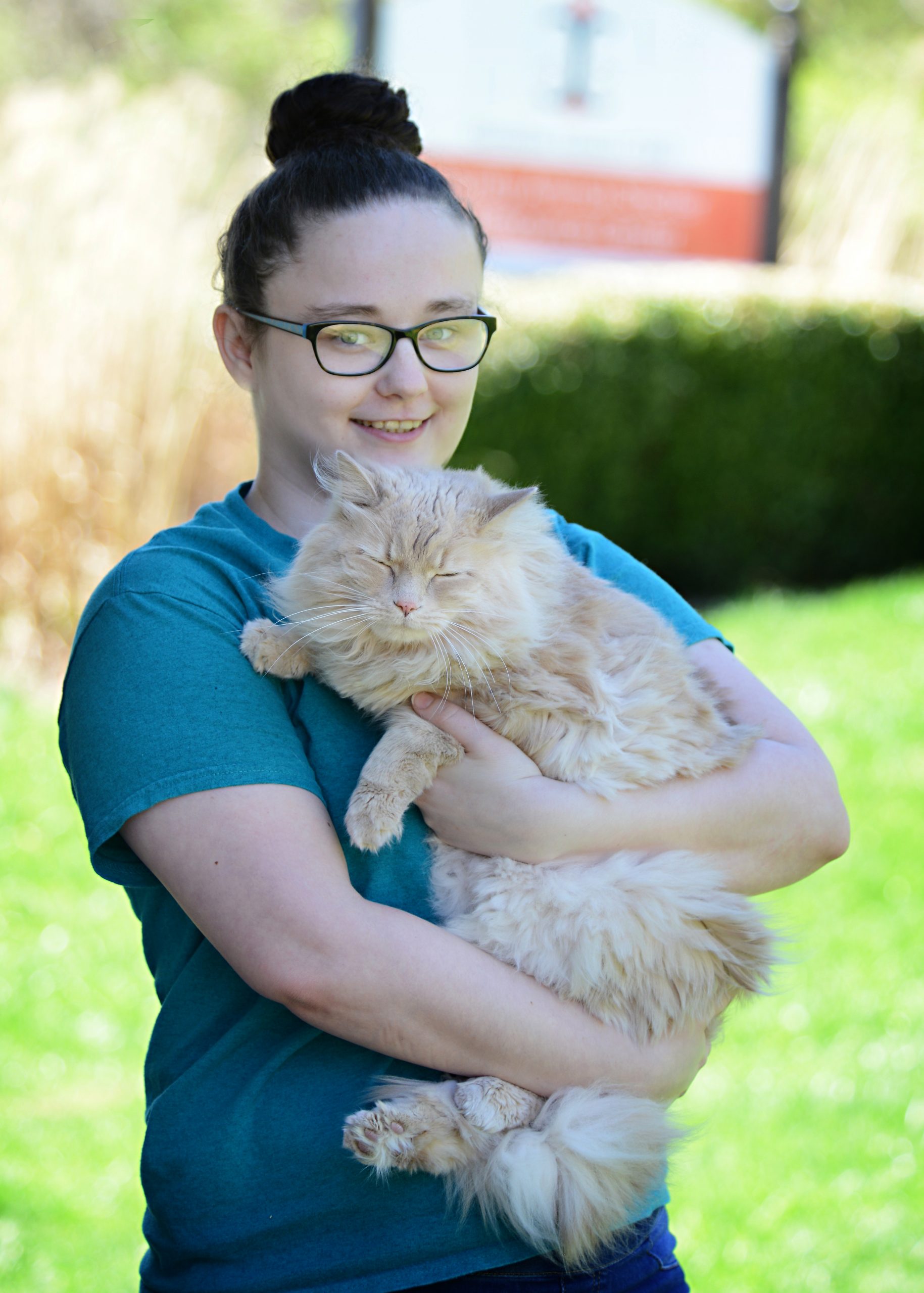 Ciera Mocherman & Buff Tufts
Customer CARE Specialist
Ciera is from a small town in northwest Ohio, where she grew up surrounded with all sorts of animals in her life. She graduated from Miami University with a degree in Zoology in 2017. In her career, she has worked with animals in shelters, zoos, and sanctuaries. Where there are animals, she follows! Ciera is a Clermont County resident and lives with her dog, Aloy.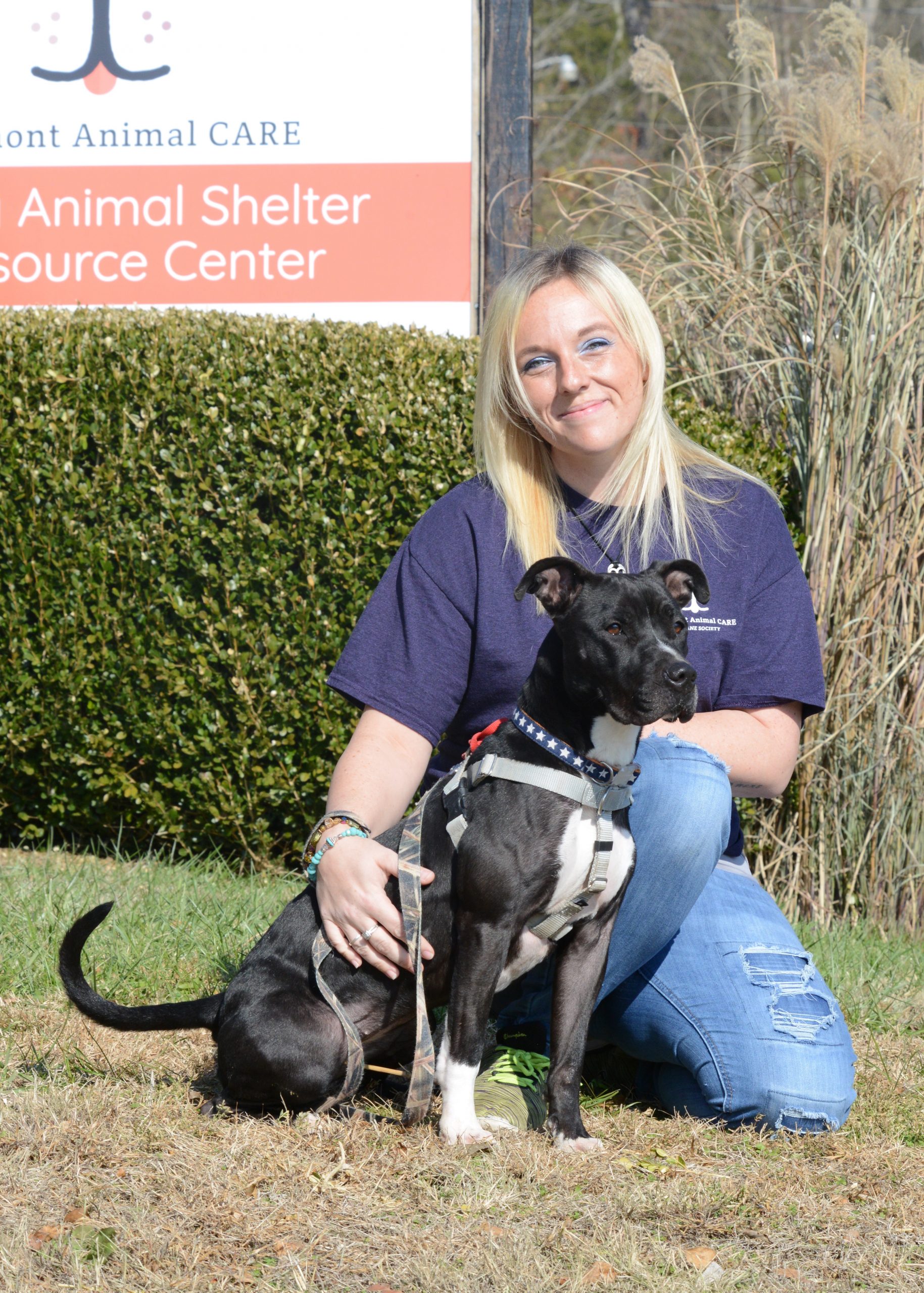 Erin Kinner & Millie
Animal CARE Specialist
Erin was born and raised in the Cincinnati area, and her two children share her love of animals. She makes it a point to involve them in her passion for animal care, whether it be visiting local shelters to offer help, spending quality time with the animals or pet sitting.
Before joining Clermont Animal CARE in March of 2019, Erin worked for an open-play doggy daycare facility. She came to CACHS excited to help incorporate playgroups into the shelter and soon after joining, participated in the Dogs Playing For LifeTM national training program, learning how to effectively and safely run playgroups with shelter dogs. Erin shares her home with two cats, and two dogs both adopted from the Clermont shelter. Erin believes there is a human for every dog and loves helping match dogs with their new forever homes.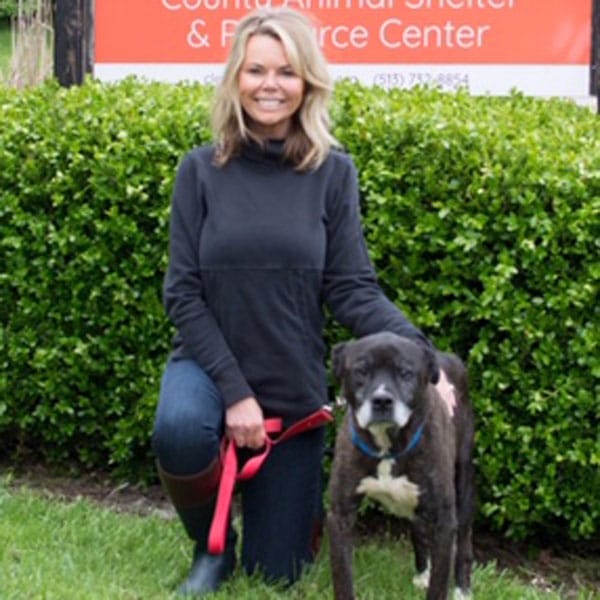 Kelli Sieber
Medical Foster Coordinator
Kelli is a Registered Veterinary Technician (RVT) in the State of Ohio. She has 10 years experience as an RVT, working for MedVet Medical and Cancer Center for Pets for the past seven years, and at CARE Center for three. Kelli studied Veterinary Technology at the University of Cincinnati where she actually obtained some of her practical training at the Clermont County shelter from 2009-2010. As Class President, Kelli led a project to fundraise for the the shelter to donate a Kuranda dog bed for every kennel.
Kelli serves the community as a Board Member of My Furry Valentine and Catholic Residential Services. She is also active in the rescue community through fundraising, volunteering, transport and fostering.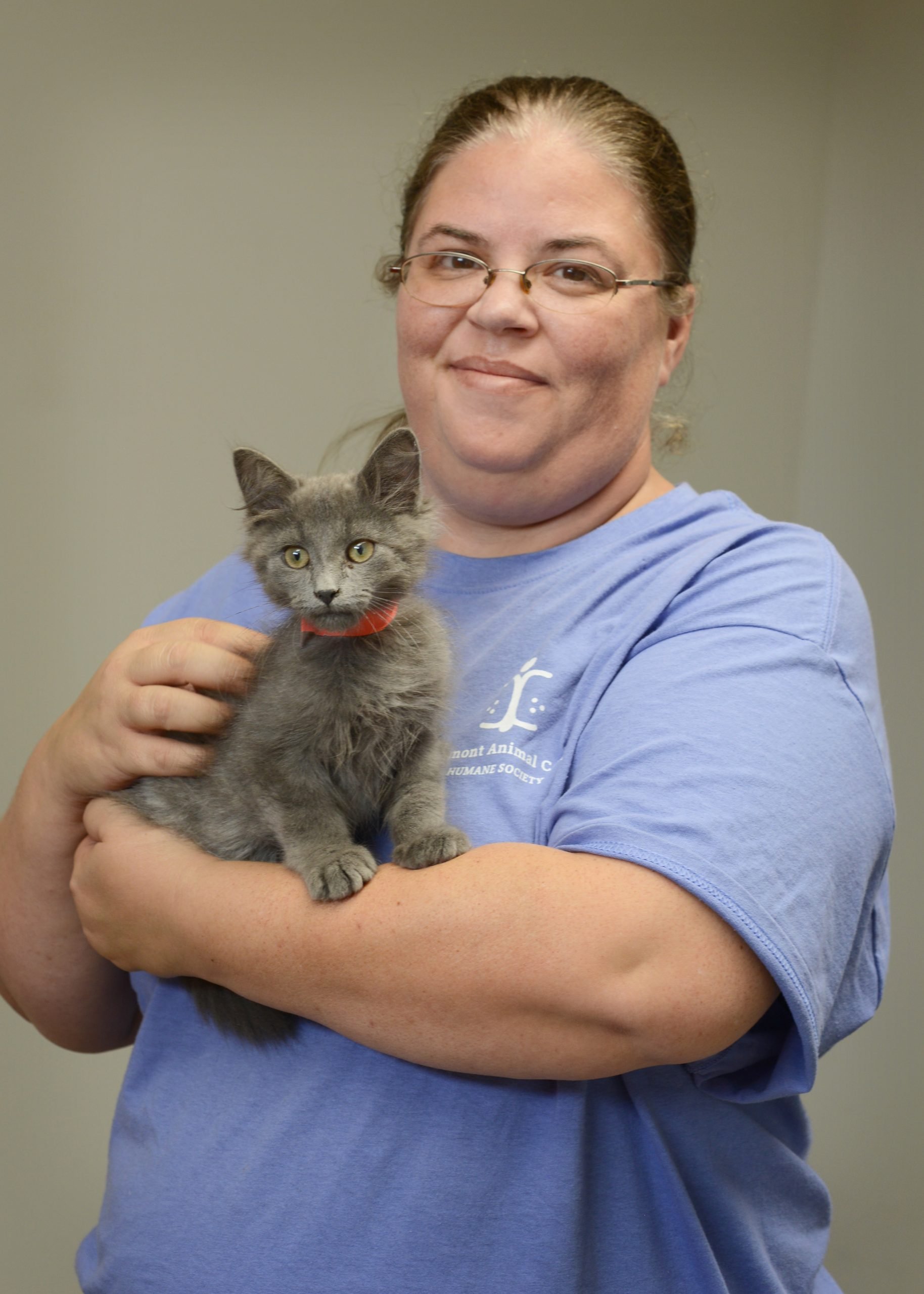 Lee Ann Luxenberger
Volunteer Services Manager
Lee Ann has been in volunteer management for nearly 20 years, the past three years in animal welfare. Lee Ann's career began in higher education directing community service programs for student engagement at Union College in Barbourville, KY. After 7 years, she returned home to Northern Kentucky to coordinate an AmeriCorps VISTA program through Kentucky Campus Compact, with her members building the capacity for college students across the Commonwealth to impact their communities through engagement and service-learning activities. Lee Ann then transitioned to volunteer management in the non-profit field and has worked at a variety of local non-profits including Freestore Foodbank, the Public Library of Cincinnati and Hamilton County, and the Friends of the Public Library of Cincinnati and Hamilton County.
Lee Ann's most recent role was as Volunteer Services Manager at SPCA Cincinnati where she oversaw the development and growth of the organization's volunteer program, resulting in a 73% increase in volunteer engagement with the organization over a three year period. She also managed the organization's Mobile Adoption Unit program and Humane Education program efforts, with hundreds of animals adopted at off-site events and thousands of children and adults educated in responsible pet guardianship and safety for and with animals. While at SPCA, she met and adopted her love -Izzy - a spoiled Shih Tzu mix who served as a Humane Education ambassador animal before stealing Lee Ann's heart.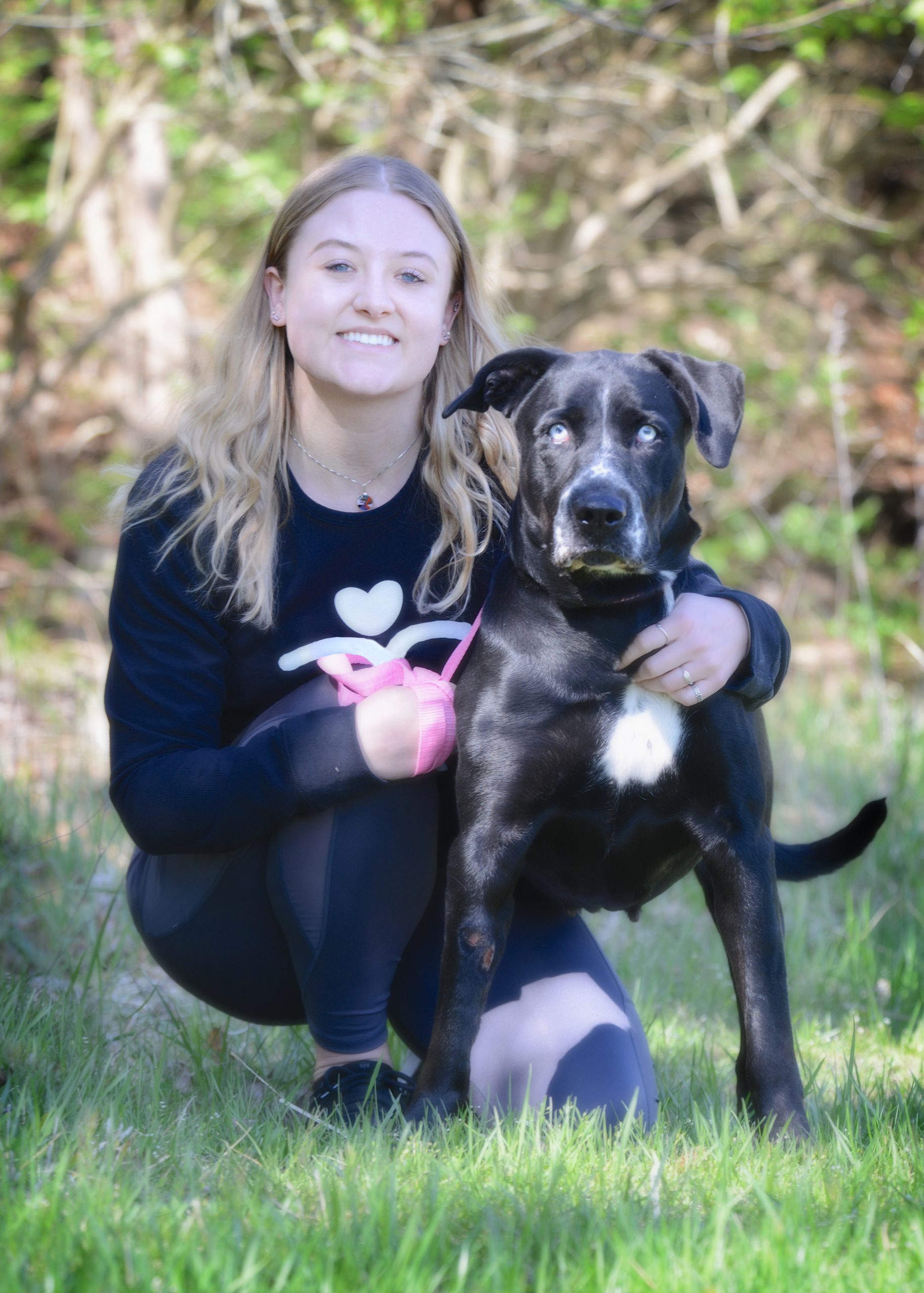 Lily Walsh & Suzy
Communications Intern
Lily has a passion for all creatures great and small. She is a Junior at Xavier University studying film, communications, and writing and interning with Clermont Animal CARE this spring through the Scripps Howard Communications Internship program. This program allows her to visit the shelter weekly and film videos to promote the animals on social media. Lily helps run the CACHS Facebook page and Instagram. Although Lily would call herself a "dog person at heart," her favorite part of visiting the shelter is hanging out in the cat room. She also loves the welcoming and family-like atmosphere at the shelter.
Lily grew up in South Bend, IN, where she volunteers at Pet Refuge, a local no-kill animal rescue. She recently spent a week at Farm Sanctuary in Watkins Glen, NY and learned about large animal rescues from factory farming. From walking dogs, to cleaning stalls, her love for animal rescue continues to flourish. Owning rescue cats her whole life, and a wonderful rescue dog named Penny Lane, she continues to spread the "adopt, not shop" mantra!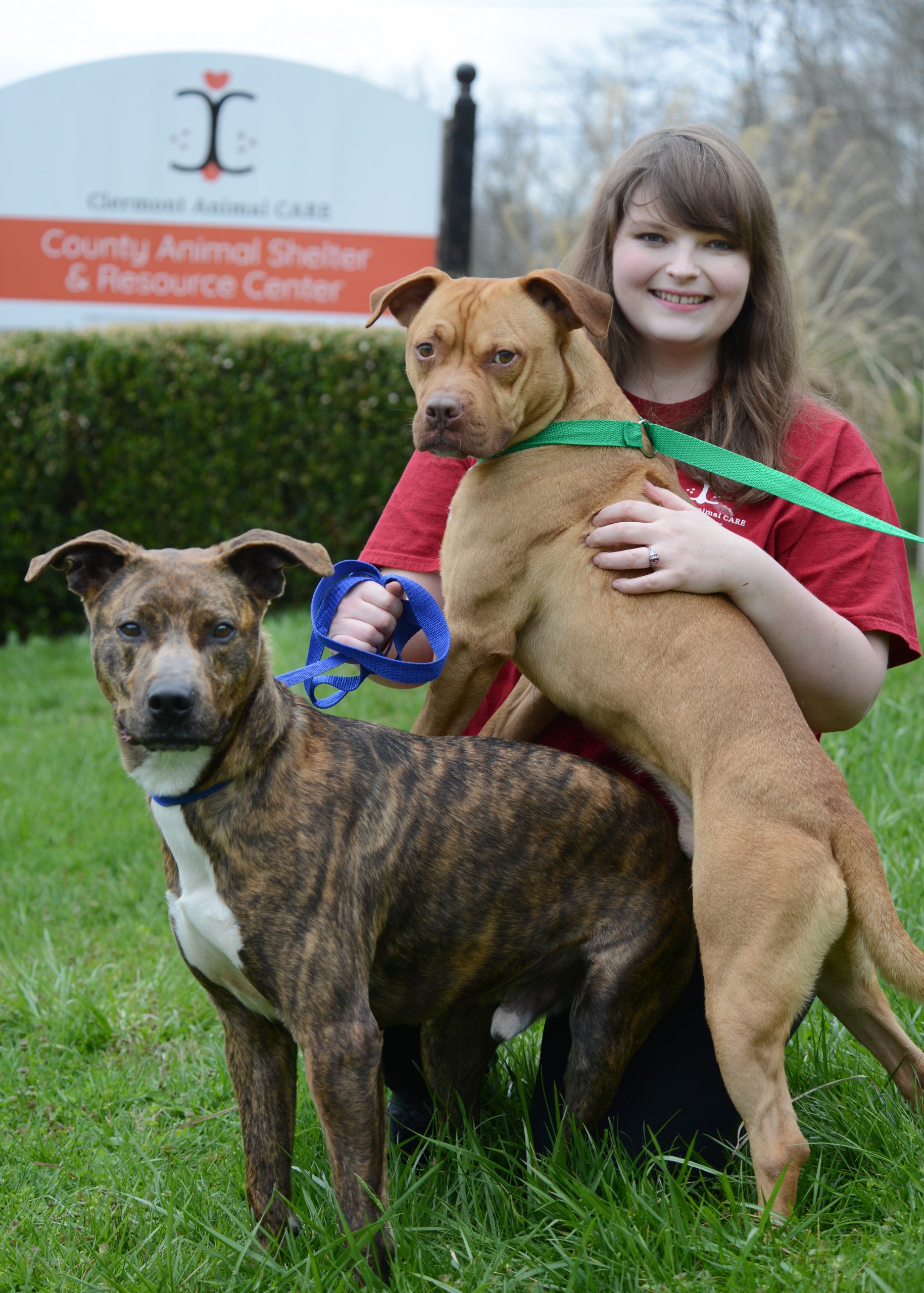 Madison Powers with Cubby & Dash
Customer CARE Specialist
Madison graduated from Kent State University in 2018 with a major in Zoology and a minor in Business. Having a passion for animals since she was young, Madison has worked at the Cincinnati Zoo, in dog daycare facilities, and now joins Clermont Animal Care Humane Society as a Customer CARE Specialist. Madison grew up in Cincinnati and was raised on a farm every weekend, giving her a good amount of exposure to a lot of domestic animals. This experience helped shape Madison's passion for helping all animals, both wild and domestic. Currently her household consists of one lovely little dog named Tucker, a feisty ferret named Lucy, and a social bearded dragon named Hilo.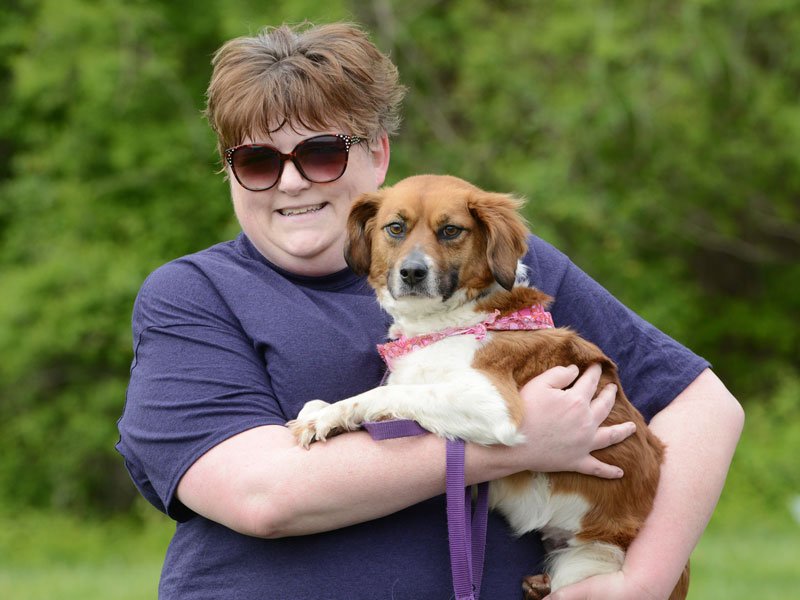 Melanie Garrison & Molly
Dog Foster Coordinator
Melanie was born and raised in the Cincinnati area and works full-time in healthcare. She's been employed with Trihealth for over 20 years. She got her start in animal welfare in 2015 as a volunteer at SPCA Cincinnati where she participated in mobile adoption events, cat handling class and building tours, as well as fostered many kittens and dogs.
In early January 2020, Melanie joined the Clermont Animal CARE team in a big way as the volunteer Dog Foster Coordinator. Her experience in customer service, computer data entry, and kitten/cat and dog socialization made her the perfect fit. Melanie feels her strength resides in matchmaking for fostering. She believes that there is a match for every animal in the shelter and providing enrichment and stability for the animals is a mission close to her heart.
Melanie currently lives with her boyfriend, Terry with 2 rescue cats and 1 rescue dog. She has 2 sons ages, 28 and 23, and 3 grandchildren ages 8, 6 and 7 months.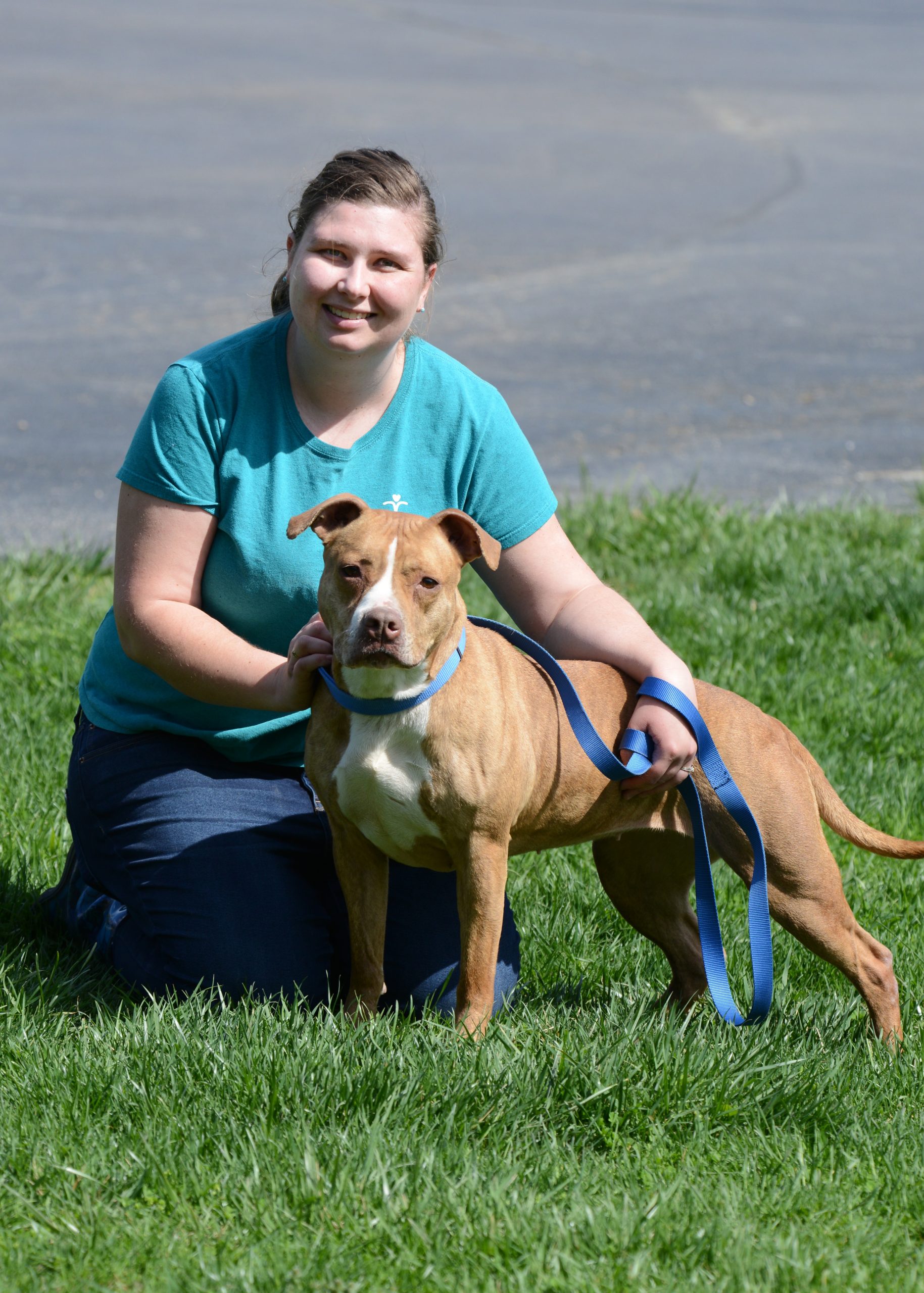 Nina Stoner
Animal CARE Specialist
Nina and her husband recently moved to Cincinnati from Merrillville, IN. Wanting to give back to her new community, she and her husband started volunteering at CACHS in February 2019. While volunteering she began getting close to the animals and was asked to join the Animal CARE team in May, where has has been working with us between her internships and school.
Due to her move, Nina transferred from Purdue University to Miami University where she is currently working on her B.S. in Electrical Engineering Technology and is due to graduate in December 2020. Nina and her husband Hubert were married in October 2018 and they live with their fun-loving pets, including a CACHS alum.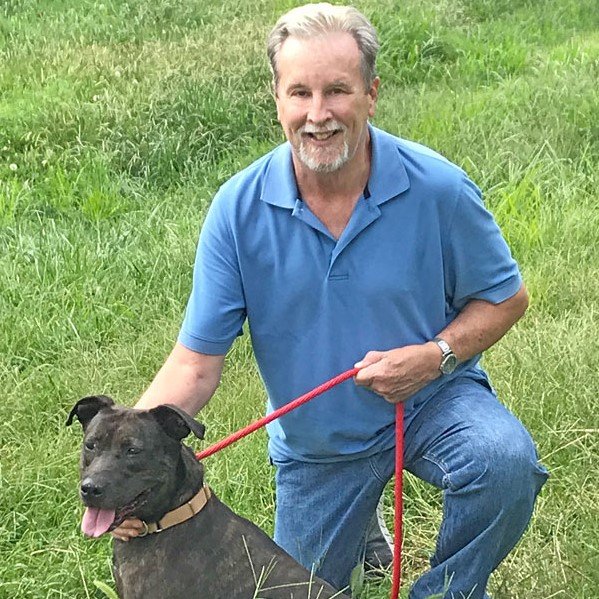 Tom Rovito & Gillian
Graphics Design Coordinator
Tom was born and raised in the Cincinnati area and is a definite dog person who has given love and support to a variety of breeds as pets over the years. Recently retired, he volunteers as a graphic designer and photographer for CACHS and other animal support groups to help them get the word out about their causes.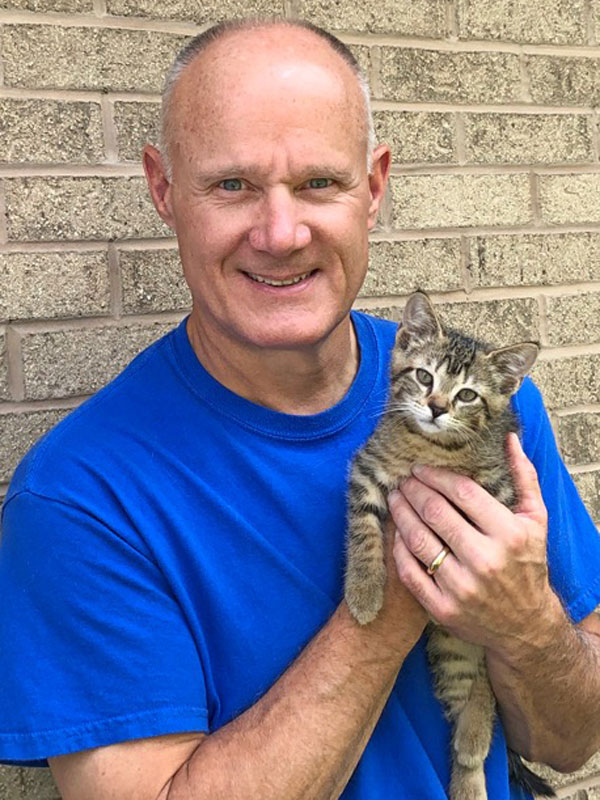 Rick Barron & Clare
IT Manager
Rick supports the computers and printers at the shelter. He serves as Clermont Animal CARE's Google administrator and steps in to manage our online advertising and website when no one else is available to do so.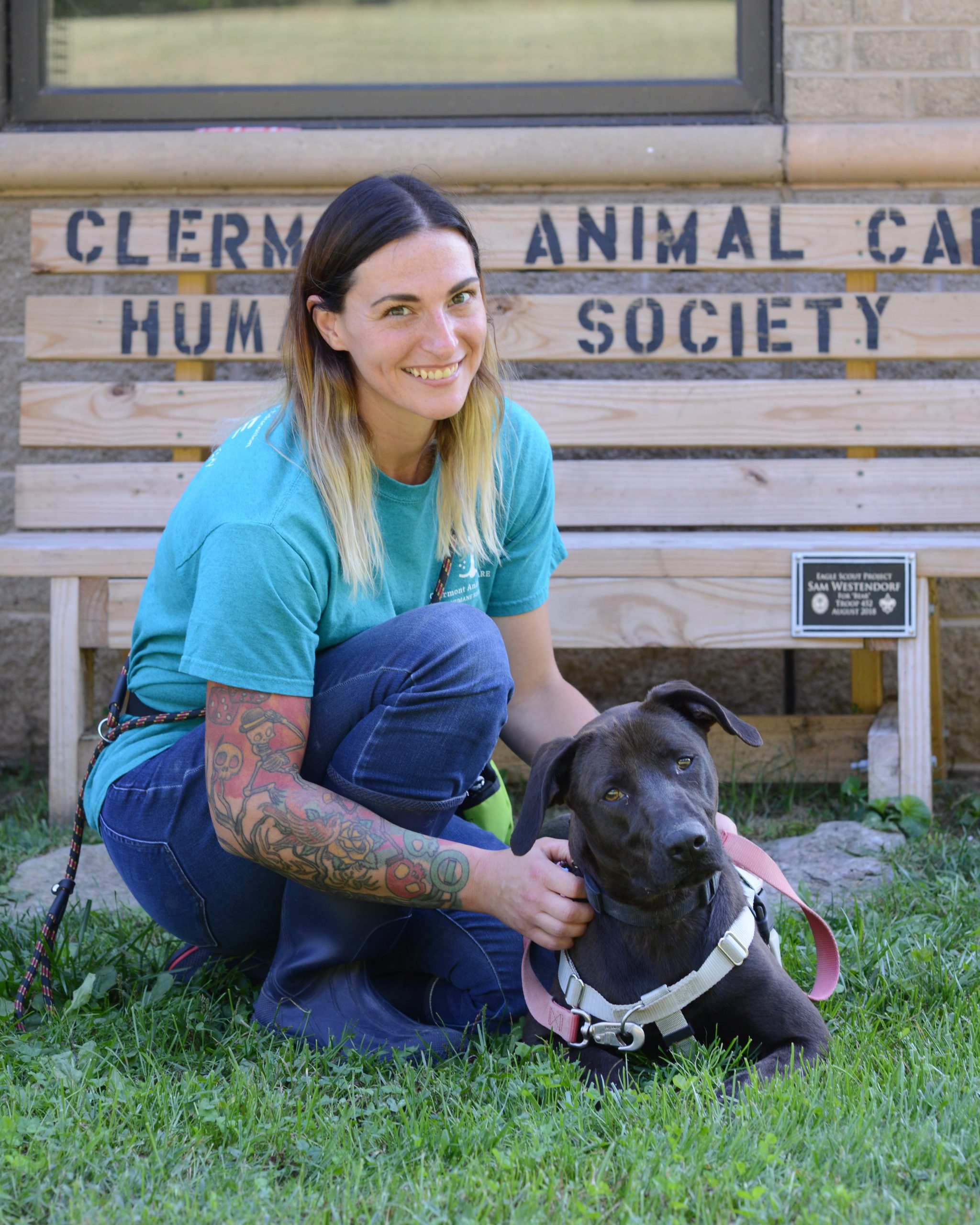 Teresa Fox & Guiness
Animal CARE Specialist
Teresa has lived in Clermont County for 22 years, currently residing in Amelia with her amazing 7 year old daughter and 4 rescue dogs. She started working as an Animal CARE Technician at Clermont Animal Care nearly two years ago. Teresa has always wanted to work with animals and this job has helped her realize that shelter animals are her passion. Seeing first-hand how scared they are when they first arrive and then watching them transform and be able to trust again is a real gift, and Teresa is incredibly proud to be a part of that transformation.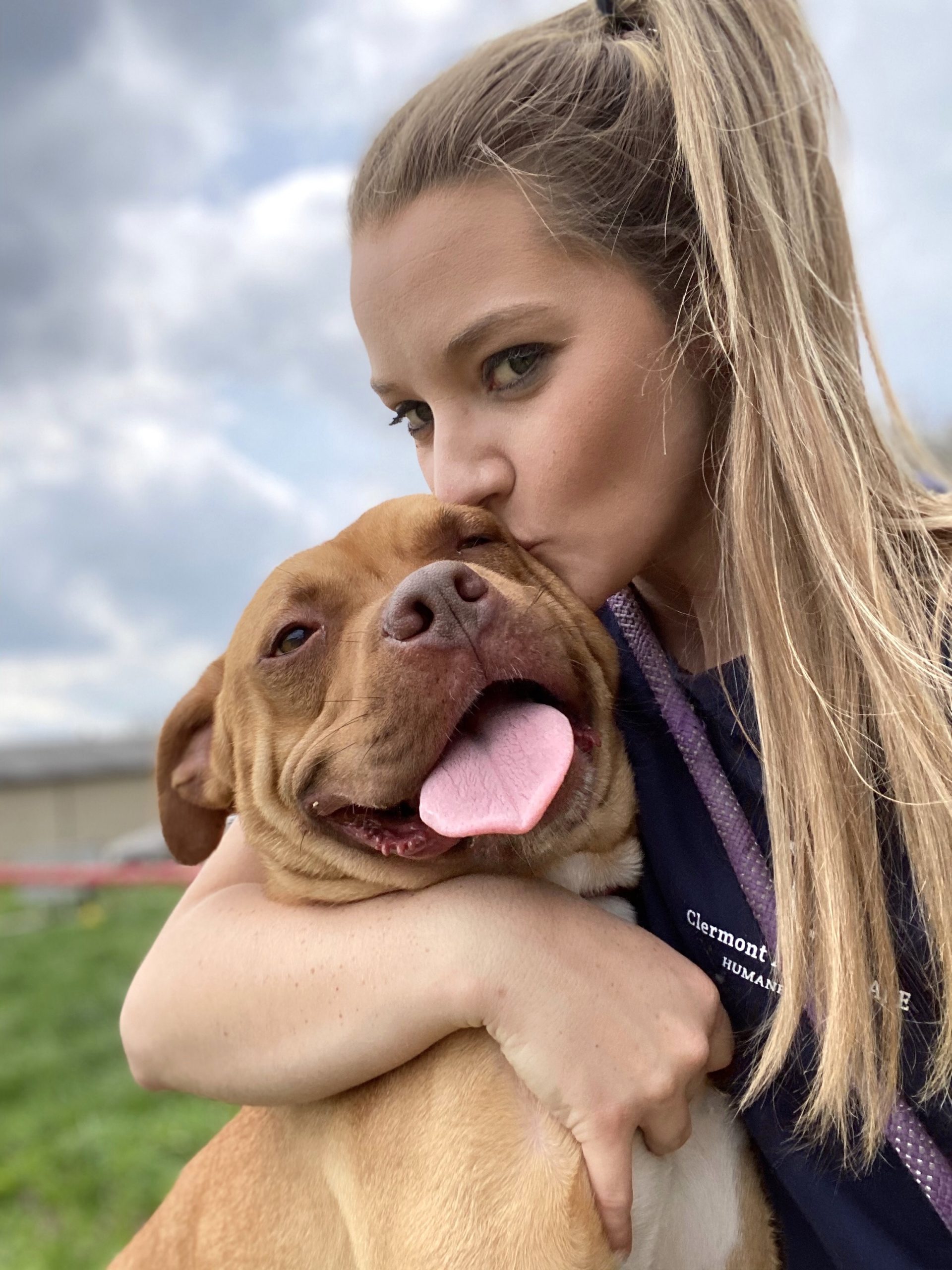 Taylor Mason & Ruby
Animal CARE Specialist
Taylor grew up in Adams and Brown Counties, where she developed her love of horses. She has been working and training horses since she was 10 years old and is a volunteer with Fighting Chance Rescue in Hamersville, OH, one of the only equine rescues serving South Eastern Ohio. At Clermont Animal CARE, Taylor is affectionately known as our "crazy barn cat" lady! Through her one-on-one socialization work, she has successfully turned two of our unsocialized "barn cats" into loving lap cats.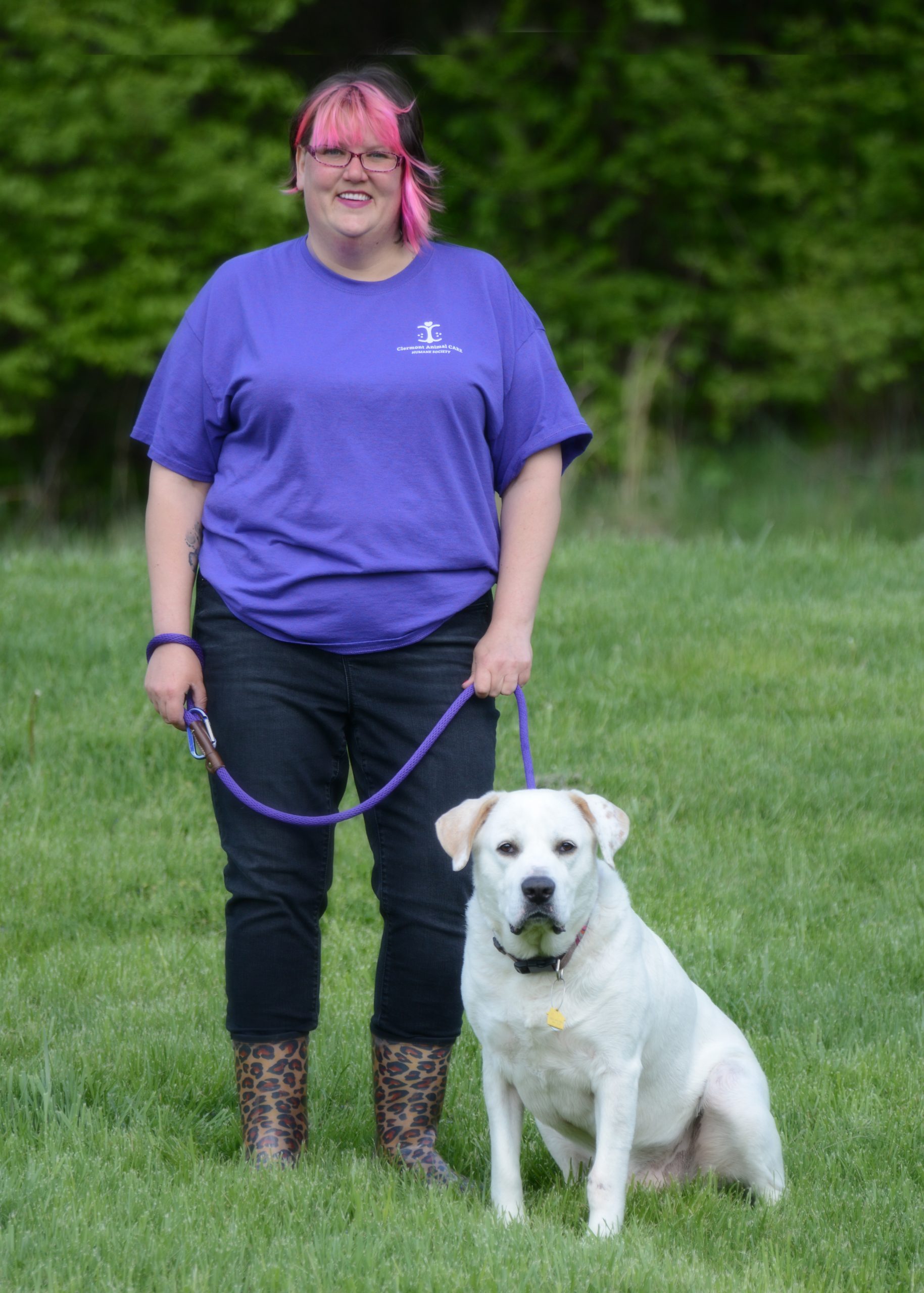 Trisha Spence & Buddy Bear
Animal CARE Supervisor
Trisha has worked for several area animal shelters including our partner, The League for Animal Welfare. Trisha's dog had an incident back in 2008 that deemed her dog special needs for the remainder of his life, it was her love for this dog that drove Trisha into the world of animal rescue.
Trisha's true passion is taking in special needs animals, and those that are terminally ill. Hospice fostering is where her heart is, and is the very reason she chose to work for Clermont Animal CARE, because the organization's views align with her own - that every animal deserves a chance.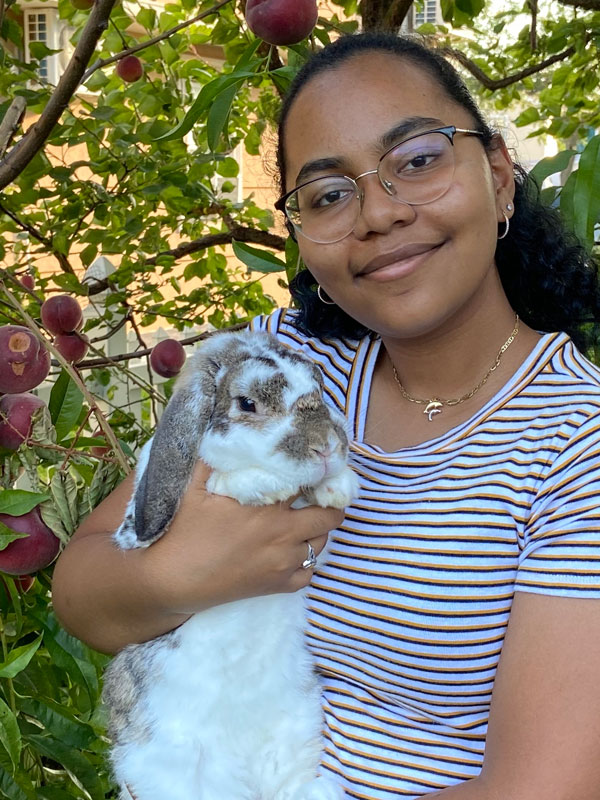 Kristen Dookie
Google My Business Analyst
Kristen lives in New York and currently attends Cornell University pursuing a degree in Animal Science. She owns a rabbit, a guinea pig, a turtle, and too many parrots to count! Although she has never had a dog or cat, her love for these creatures is extreme. Kristen helps to manage our Google My Business listing where she assists in coordinating posts, uploading photos, and more. Working with Clermont Animal CARE allows Kristen to volunteer at a shelter in a way she never thought of.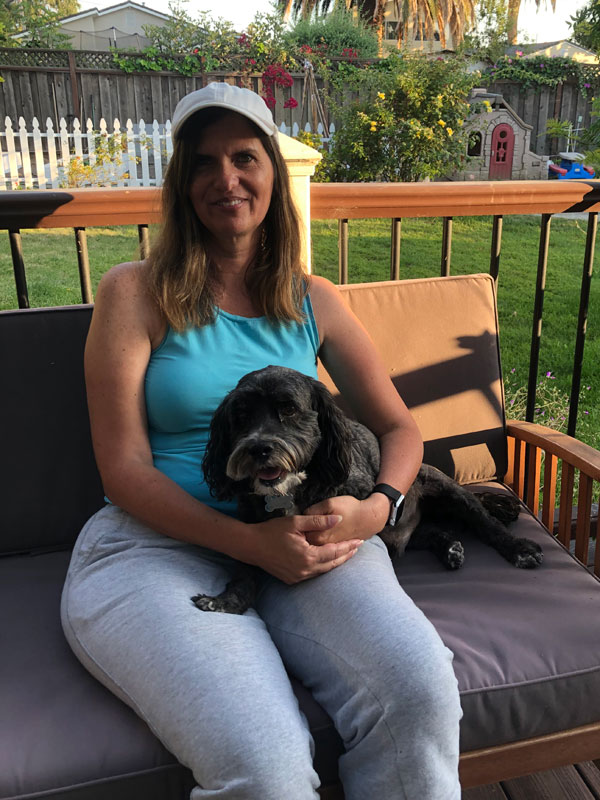 Monica Conti & Oreo
Webmaster
Monica was born and raised in Northern California where she now lives with her family and 2 cats Ginger and Reese and 2 dogs Biscuit and Oreo. She is currently fostering kittens for her local animal shelter. She has always loved animals and is passionate about animal rescue. She retired from Hewlett-Packard after 24 years with various positions including Support Engineer, IT Financial Applications Developer, Business Analyst, and Sales Configuration Pricing and Quote Project Manager. Monica maintains the Clermont Animal CARE website.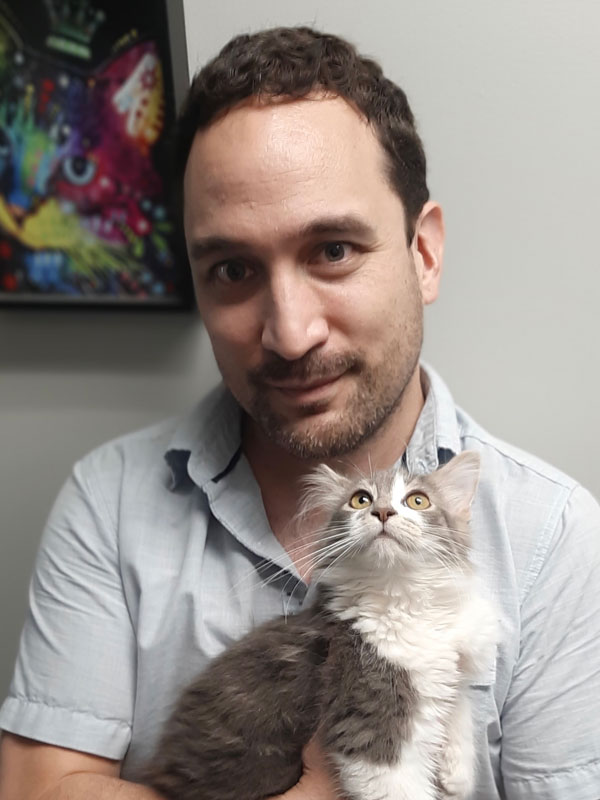 Steve Demo & Bananas
IT Support
Steve is a digital activist, animal lover, husband, and father, whose passion and career intersect at community and technology. He believes we all have a greater responsibility to help companion animals find homes. His main role is to help allow staff and volunteers to focus more on cats and dogs, rather than computers and peripherals.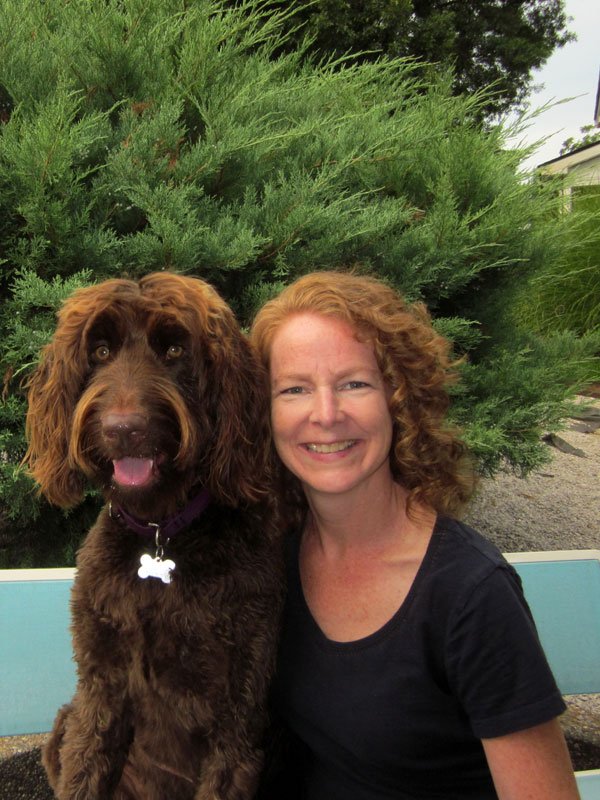 Rebecca Krieg & Bode
Google Ad Manager
Rebecca moved to the Cincinnati area 2 years ago from Park City, UT. She and her husband are animal lovers and also enjoy spending time in the outdoors, which means lots of long walks for their dog Bode. With 16 years of Digital Marketing experience, she's happy to be helping Clermont Animal CARE with managing our Google Ads to try to get all of our wonderful pets a new home!
Interested in a Career with Us?
Seeking enthusiastic, animal lovers able to work in a fast paced animal shelter environment. Explore our paid and volunteer openings by clicking the button below.